| | |
| --- | --- |
| Birds of Paradise, R. Ching © 2012 | |
| | |
| --- | --- |
| | Sir David Attenborough and friend |
The Wallace Centenary Project

presents

Sir David Attenborough
Alfred Russel Wallace

and the Birds of Paradise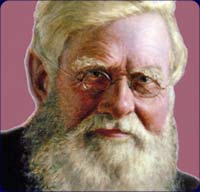 Alfred Russel Wallace
(1823–1913)

"Truth is born into this world only
with pangs and tribulations . . . every
fresh truth is received unwillingly."

—Alfred Russel Wallace, 1913


Alfred Russel Wallace spent eight years travelling New Guinea and the Malay Archipelago in search of birds of paradise, and became the first European naturalist to observe their spectacular courtship "dances." In the course of his explorations, he wrote a paper that, together with another by Charles Darwin, announced the theory of evolution—thus becoming the co-founder of evolutionary biology.

Wallace's fascination with the world of life ranged from the Amazon to Borneo, from the origins of human consciousness to mimicry in insect coloration, from astrobiology to the behavioral ecology of orangutans and birds of paradise. But it was the birds of paradise that preoccupied him throughout his journeys to Indonesia. The wonder and beauty of their magnificent displays in the remote, gloomy forest filled him with wonder, admiration, and scientific curiosity.

Wallace and the birds of paradise form a beautiful object lesson in how passionate observation of nature can lead to unexpected scientific breakthroughs—and a better understanding of what kind of creatures we are and how we got here. His skill as a scientific observer, infused with a poetic sense of t he beauty of his subjects, continues to inspire the work of new generations of naturalists, including the remarkable television wildlife films of Sir David Attenborough.



Sir David Attenborough


Attenborough's presentation, "Alfred Russel Wallace and the Birds of Paradise," was given to a full house on November 12, 2013, in the LeFrak IMAX Theater at the American Museum of Natural History in New York City. He illustrated his talk with his remarkable film clips of the birds (such as the one below). The wildly enthusiastic audience gave Sir David a standing ovation. A book signing of Sir David's book Drawn from Paradise, co-authored with Errol Fuller, followed at a reception in the museum's Hall of Northwest Coast Peoples.




Dr. Biruté Galdikas

Photo: Orangutan Foundation International
Wallace was drawn to the Malay Archipelago (now parts of Malaysia, Philippines, Indonesia, and Papua New Guinea), where he explored thousands of miles of islands. In addition to studying and collecting myriad insects and animals, his greatest passion was to seek out Birds of Paradise and orang-utans. Indeed, he became the first European to study a great ape in the wild (Borneo).



More than a century later, Dr. Birute Galdikas followed up on Wallace's early work with a forty-year commitment to study the tree-living red apes, and to attempt to rescue them from dire peril of extinction as their remote forests were invaded by loggers and hunters. She continues that work today.



Dr. Galdikas was one of anthropologist Louis Leakey's three famous "ape women"; the other two were Jane Goodall, who studied East African chimps, and Diane Fossey, who worked with mountain gorillas in Rwanda. During the daytime program of lectures at the AMNH Wallace Conference, she spoke about her beloved orangs and may possibly also speak at its sister event at UCLA in spring 2014.






Anthropologist and historian of science Richard Milner's unique compendium of natural history is Darwin's Universe: Evolution from A to Z (University of California Press, 2009). His most recent book explores the life of the great paleoartist Charles R. Knight: The Artist Who Saw Through Time.

For the past two years, Milner has developed plans for a large Alfred Russel Wallace Centenary Celebration, beginning in 2013, the hundredth anniversary of Wallace's death. Conceived as a series of "Big Tent" events, it includes major conferences in London, New York, and other cities.



Send proposal for projects, meetings, and publications on Wallacean topics to Richard Milner, Project Director, at rmilner@nyc.rr.com


---
See also:
---
Return to Darwinlive home page.